These highly durable, fully poseable, light weight, foam covered,
wire skeleton dummies were specifically designed for evidence
demonstrations and are built to withstand years of abuse. Covered
in a soft flock surface with a wide range of colors (tan, brown, grey,
white, black, orange), in a range of sizes (infant to large adult), as
male or female, and with optional hair style pieces, our victim people
can be customized to suit your specific needs. They are fully poseable
with bendable digits that can hold objects (knife, gun, etc.), and easily
dressed, can be twisted, dropped, run over, shot, stabbed, bludgeoned,
or shaken. ( Burning, tearing, gutting, and decapitating not recommended. )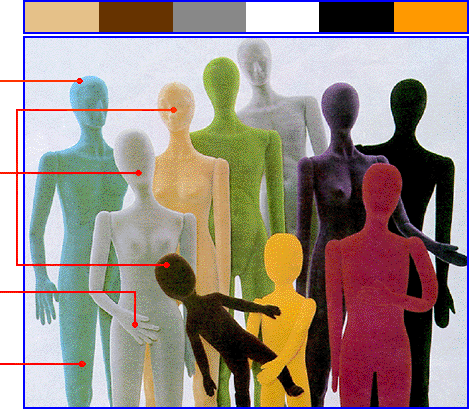 Optional hair available. Please call for pricing
and availability.
A wide variety of
shapes, sizes, and
colors help distinguish
multiple dummies and
add realism to
your case.
Flexible digits allow the Victim Dummy to grip objects, like a gun,
a knife, or hand-railing,
for example.
Available in:
Victim People