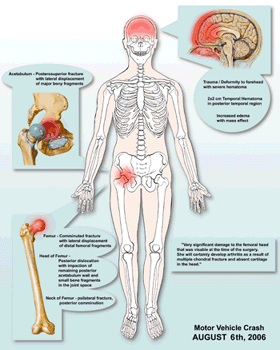 Medical Exhibits
© Atlanta Legal Photo Services, Inc.
With our custom drawn, full-color medical exhibits we can incorporate into the production our professional injury photography (taken in our studio or on location), X-rays, and / or custom / stock medical illustrations (from the top illustrators in the field).
We can only give you general prices for illustrations over the phone.
If you want a complete work-up on your specific case, that will generally take our medical illustrator several hours of studying the medical records and our research.
Here's how it works:
• You will be required to send the client's operative report, X-rays, and
the radiology report along with a $500 retainer to cover any case
specific quotes or sketches to be done for you.
• Our medical illustrator will then review your client's information to give
advice on what different views could be shown, and provide some
general sketches for your review (sometimes a doctor must be
consulted and shown drawings to approve as well). Upon approval,
our medical illustrator will finish the drawings.
• Then our designer will put it all together with the appropriate labeling
and other images and a proof will then be e-mailed or faxed to you.
Upon your final approval, we will print & finish the exhibit.
• This whole process takes about 2 - 3 weeks from start to finish.
The balance for the total cost of production will be due at that time.

Recuperation is accompanied by pain and trauma. Sometimes an operative repair of an injury creates internal and external scarring. Some procedures may even permanently destroy healthy tissues.
Above is an example of a custom medical illustration from our medical artist showing part of a surgery were tissue is permanently damaged.
This exhibit was made up entirely of stock illustrations from our archive of high quality medical artwork.
The client provided the text and our designer quickly put it all together.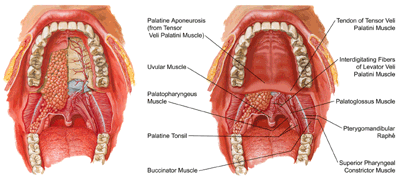 Here the upper part showing a side view of the head was merged seamlessly with a frontal view of the lungs, then relabeled.
Stock illustrations can even be modified slightly as shown here were the roof of the mouth was added, along with custom labeling.